Short haitus? Eh, assignments are handed up, I'm not using the term 'finished' because they're not. Sitting back and HOPING I pass :(
Anyway to kill stress .. online hunting!
**********
1. Hello Kitty x Tokidoki charm bracelet
MINEEEEEEEEEEEEEEEE! IT'S SO ADORABLEEEEEEEEEEEEEEEEEE! *breathes*
Okay so the boyfriend got me a bracelet for my birthday. I'm not complaining but the material it was made out of (stainless steel perhaps? not sure) kept 'stretching' so a lot of the time I couldn't lock it together (it's a heart-locket kinda thing). Which meant it could easily fall somewhere while I was wearing it. PLUS a lot of people had the bracelet, it was from a fairly well-known store =/ So, he offered to get me another one and during my many hours of forcing him to sit with me while I shop for Hello Kitty, I came across this: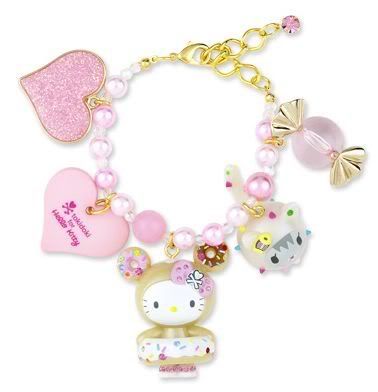 YAYYYYYY! The seller is from Japan. Plus I'm almost certain this is authentic. Why? No one has bothered to fake the Tokidoki x Hello Kitty range. Hence everything on eBay is overpriced, like the actual online stores themself, $30 for a pen haha. And look at how well some people take care of their items, there's a Tokidoki x Hello Kitty bag on ebay for US$650 'never removed from factory wrapping'. Yes, it's still in plastic .. they didn't even take it out to take a photo of it, it's all sealed and everything. Like wow =S But the bracelet should be in the mail to me soon =D!
2. Hello Kitty x Tokidoki CACTUS PLUSH TOY!
I've been eyeing this since the collection came out .. a while ago. It's Hello Kitty. As a CACTUS. How much freakin' cuter can you get?! Something about it screams UBER CUTE and I've always wanted it, and you know what I figured last night? My car is green. That's about the only thing that I'm willing to stick in there to match my car colour AND the inside stuff, which is all pink. A Hello Kitty cactus hanging from the review mirror = WIN!
Roughly AU$40 with free postage. However, you can get a cactus AND a donut for around US$71, which yeah should be roughly AU$80 for the pair.
Shall order it when I come back from more interstate tripping during July :) Seeing as it's not really a 'need' right now, as I'm not driving .. yet. But the next item is a need ..
3. Hello Kitty hoodie
Mm winter :( I looked around for brands such as Superdry and G-Star hoodies but didn't find anything I was really into .. I'm not big on brands anyway. But did come across THIS which is so so cute! Reminds me a bit of 'beckii cruel' (youtube her), but I'm not willing to fork out the AU$120-$130 for it :(